EP (Polyester) & NN (Nylon) Technical Datasheet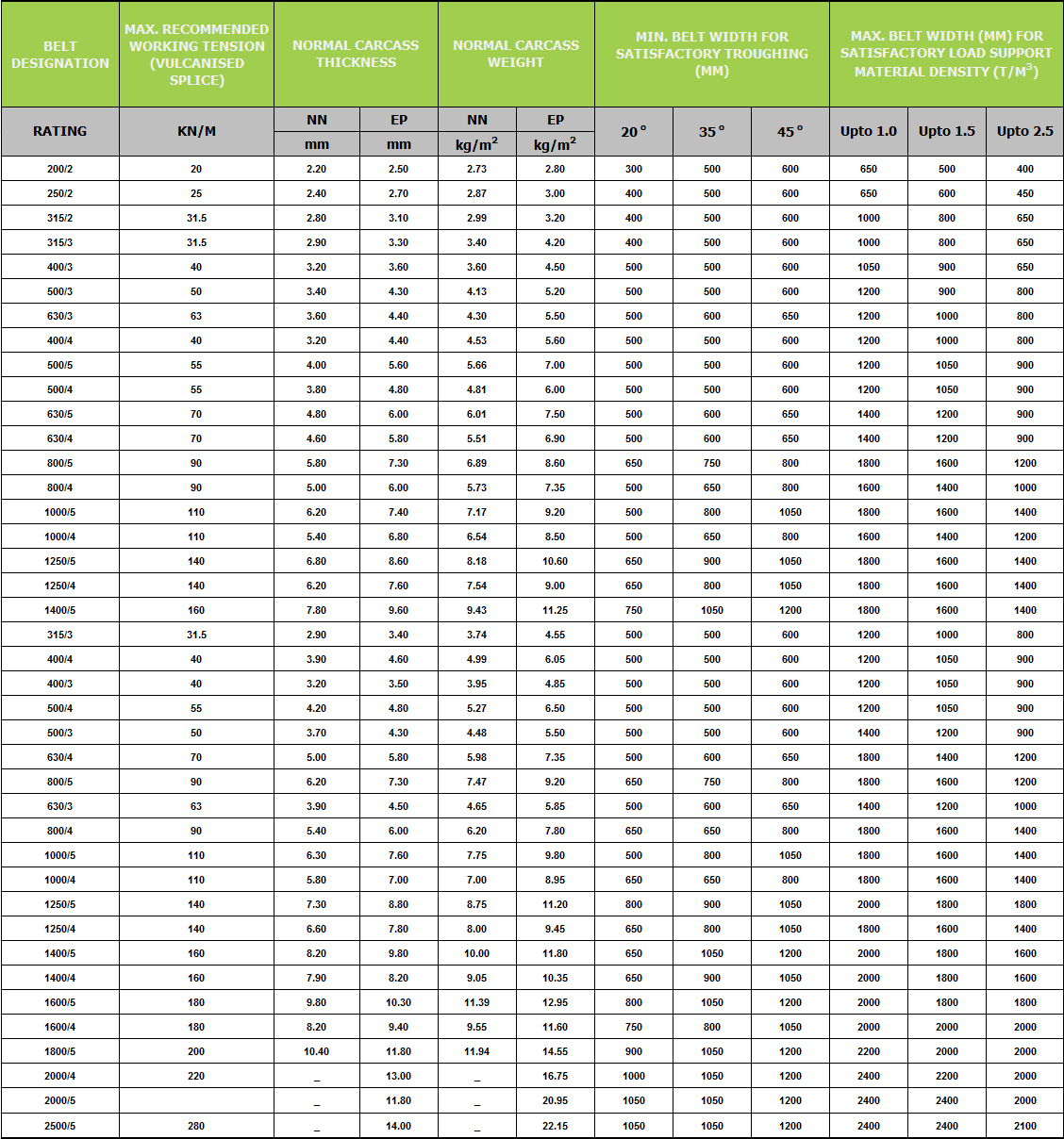 General Purpose Conveyor Belting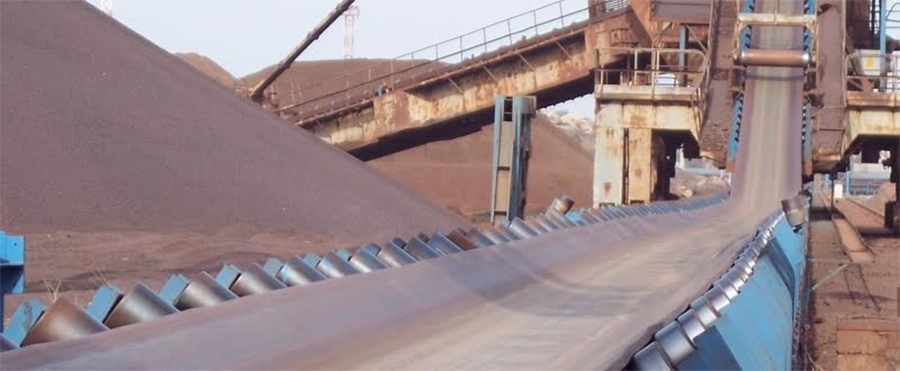 Depending on the applications, textile conveyor belts feature various cover stock properties and a single -or multi-ply textile tensile member. Long-lived products for diverse conveying tasks in open-pit and underground mining. MaxFlex complies with all know international standards. It can work in areas of bulk material handing from the lightest to the most difficult of the working conditions, be it in the stone quarrying or earth moving industry, in the steel, cement or mining industry. For those applications where the customer prefers to use the modern minimum ply concept conveyor belting, wherein the height of fall on the belt is more and special impact conditions have to be considered.
Our state of the art manufacturing units are capable of producing the best of its class fabric belting in desired fabric carcasses. Capable of manufacturing up to 2400 MM wide Maxflex prides itself on being the best of its class when it comes to fabric belting.
Mutual discussion with us at pre-ordering stage would always ensure the best designed covers                                                                   for specific installations.
PRODUCT FEATURES

PRODUCT ADVANTAGES

Belt Width : Up to 2400 MM

Belt Length : Any length, normally subject to a maximum of 200 to 300 meters in a single roll.

Belt Thickness : As per Customer Specification.

Grade : As per Customer Specification.

Very Good Flexibility.

Resistance to cut and tear

Excellent Throughability.

High Impact Resistance.

Very Good Abrasion Resistance.

Maximum Load Supports.

Resistance to Adverse Atmospheric Conditions.
Heat Resistance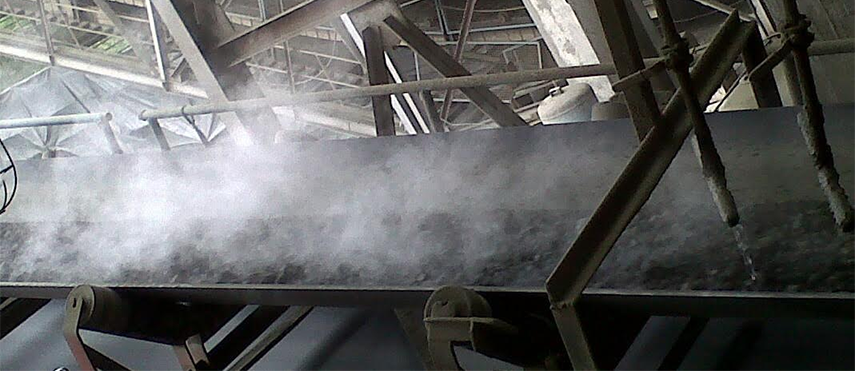 Heat Resistant Belts have found wide acceptance in Steel Plants (for handling Sinter and Coke) and Cement Plants (for handling Clinker) in addition to other areas of applications. As a rule, special heat resistant belts are required for transporting materials with a temperature of over 80°C. Materials of this type may consist of sinter, cement, moldings sand, coke etc
Maxflex heat resistant conveyor belts have been developed and refined over many years so that they are more than capable of meeting the demands of even the most extreme conditions, which in some cases can involve temperatures as high as 400°C. The service life of these belts depend not only on the temperature of the materials to be transported and on the construction of the belt but also on a number of other factors such as the wear properties of the materials, the fall during loading, the size of the material, the length of the belt, the speed of the conveyor and any chemical action which may be involved. Choosing the correct thickness of the cover is also essential because the cover acts as a barrier between the heat source and the carcass.
Mutual discussion with us at pre-ordering stage would always ensure the best designed covers for specific installations.
HR (T1) – Our range of HR (T1) Conveyor Belts are heat resistant suitable for continuous Temperature up to 120°C for coarse materials and 100 degree Centigrade for fines. These conveyor belts are mainly used in Paper, Foundries, Chemical & Fertilizer plants etc.
HR (T2) – Our range of HR (T2) Conveyor Belts is used for handling material up to 160°C for fines and 180°C for coarse material. These Conveyor belts are mainly used for conveying Sintered ore, Pellet, Coke, and Clinker Etc.
HR (T3) – Our range of HR (T3) Conveyor Belts are used for controlled high temperature Applications, it is suitable for continuous service up to 180°C and a peak temperature of 200°C. These conveyor belts are mainly used to handle red hot materials such as Cement, Clinker, Sintered Ore and Phosphate.
SHR – Our range of SHR Conveyor Belts are used for controlled high temperature Applications, it is suitable for Transporting hot material (up to 250°C for coarse & 200°C for fine material)
USHR – Our range of USHR Conveyor Belts are used for controlled high temperature Applications, it is suitable for Transporting hot material (up to 350°C for coarse & 300°C for fine material).
Fire Resistance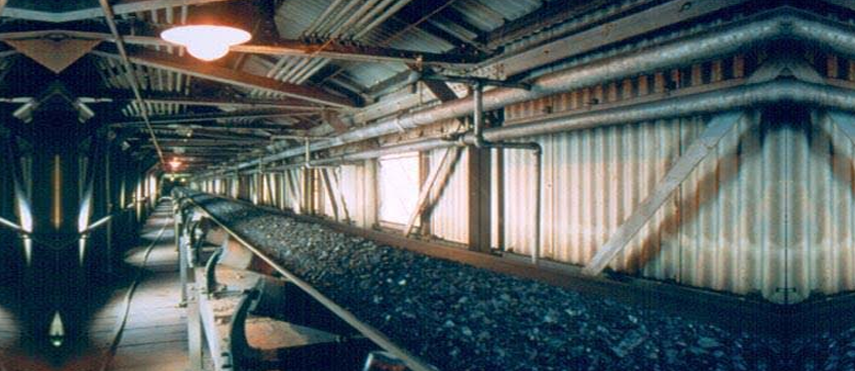 Fire Resistant belts commonly used in handling coal over ground in Coal Mines, in Underground Coal Mines, Thermal Power Plants, Sulphur Conveying ETC. Fire Resistant belts are similarly used for conveying other materials which are prone to ignition during use.
BENFITS
Reduces the risk of fire hazard and potential loss to human life, material and installation.

Fire resistant belts are Anti-Static.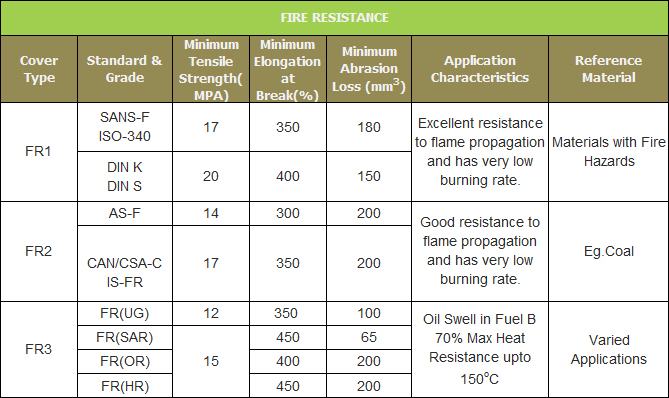 Mutual discussion with us at pre-ordering stage would always ensure the best designed covers for specific installations.
Oil Resistance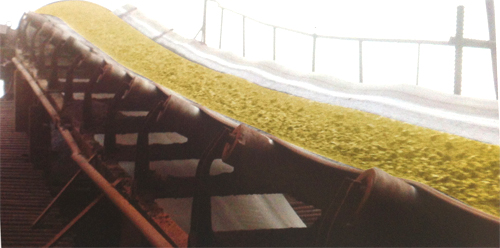 Oil and fat can have a very detrimental effect on the performance and life expectancy of a conveyor belt because it penetrates into the rubber causing it to swell and distort, often resulting in serious operational problems. Oil and fat resistance can be divided into two sources – mineral oils and vegetable & animal oils and fats. Mineral oils are the most aggressive and demand a particularly high level of protection. Major applications are Poultry Feed, Fish Feed, Soybean Draff, Packed Fish and Meat Products, Rapeseed Vegetable Cooking Oil, Mustard Oil Packing Plants, Organic Solvents Handling Plants that normally contains Paraffin Wax and Naphthenic based Oils.
Maxflex uses a very special compound formula in the cover grade quality that is designed to resist penetration and therefore the damaging effects of oils and fats.
In the case of highly aggressive mineral oils and situations that involve high concentrations of animal and vegetable oils, Maxflex has also developed a special compound to create the extremely successful cover quality which is resistance to Heat, Fire and Oil.
This type is suitable for many different industries including the chemical & fertilizer industry, wood, paper & pulp, sugar food, transhipment and recycling plants.
All conveyor belts are antistatic according to DIN EN ISO 284:2004. Oil resistance depends on the construction of the belt (ratio between cover and skim, cut or moulded edges, with or without bottom cover). These belts are available in different constructions from smooth belts, Rough top belts and chevron belts.
Mutual discussion with us at pre-ordering stage would always ensure the best designed covers for specific installations.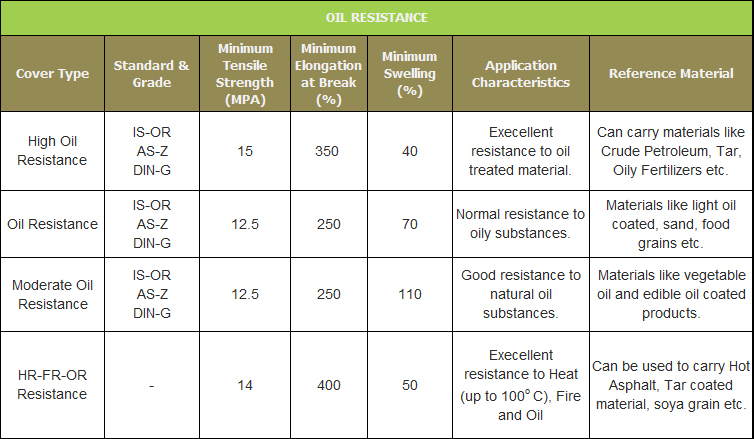 Chevron Conveyor Belt

Chevron conveyor belts are specially designed for the effective material handling in the applications where the angle of incline is higher (>18º) for the material to be conveyed and the material tends to slide on a conventional conveyor belt.The chevron conveyor belts are used for carrying wet, loose sand and grain materials in bugs. In addition to a range for normal bulk goods, various special types are available for conveying hot goods, for the transport of goods containing oil and grease, for steep-incline conveying and with special reinforcing materials for particular applications.
There advantages are long service life due to homogeneous chevron profile which is vulcanized together with a base belt.
Area of Applications:
Quarries, Sandpits Cement Works, Lime Work.
Framing Conveying of Beets, Grain, Potatoes, Fertilizers, Wooden Chips Coal and Coke Transport.
Sugar Refineries.
Salt mines.
Mobile crushes and screens.
Special Features:
Can carry loose materials at angle > 18º and bagged materials at 30º .
Longer working life.
Cleat angle and pitch are designed for smooth travel over return idlers.
Cleats and the Top cover rubber are mono block molding for strength.
Standard length: 150 meters as per roll.
Standard width: 500 mm to 1400 mm.
Grades: General Purpose, Flame Resistance, Oil Resistance, Heat Resistance and High Abrasion Resistance, Food Grade.
Mutual discussion with us at pre-ordering stage would always ensure the best designed covers for specific installations.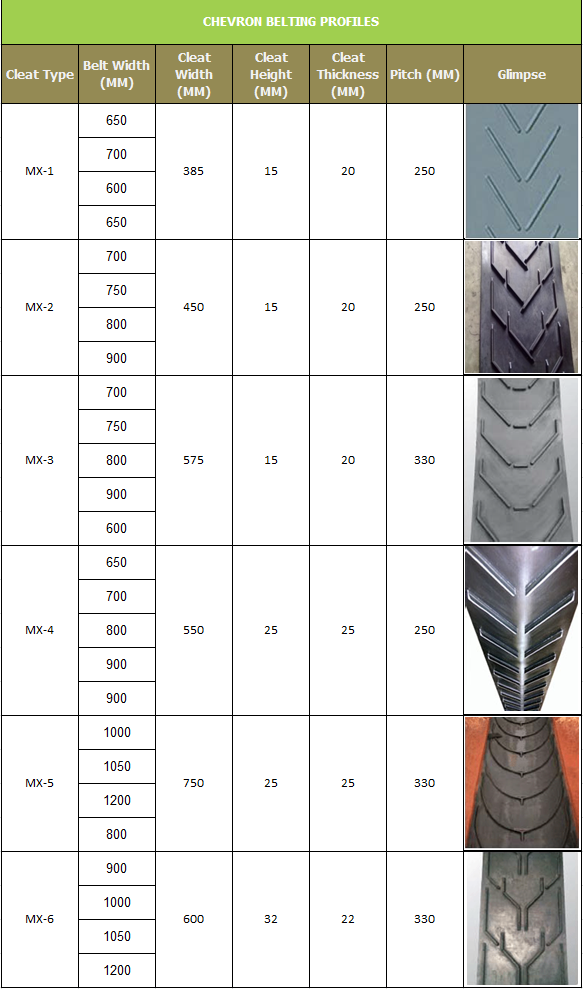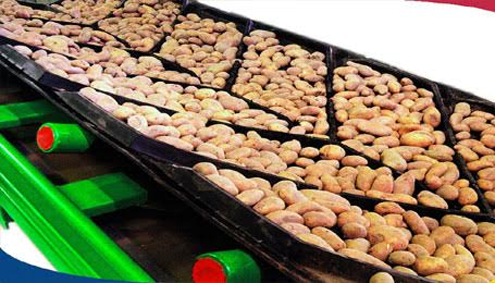 Pipe Conveyor Belts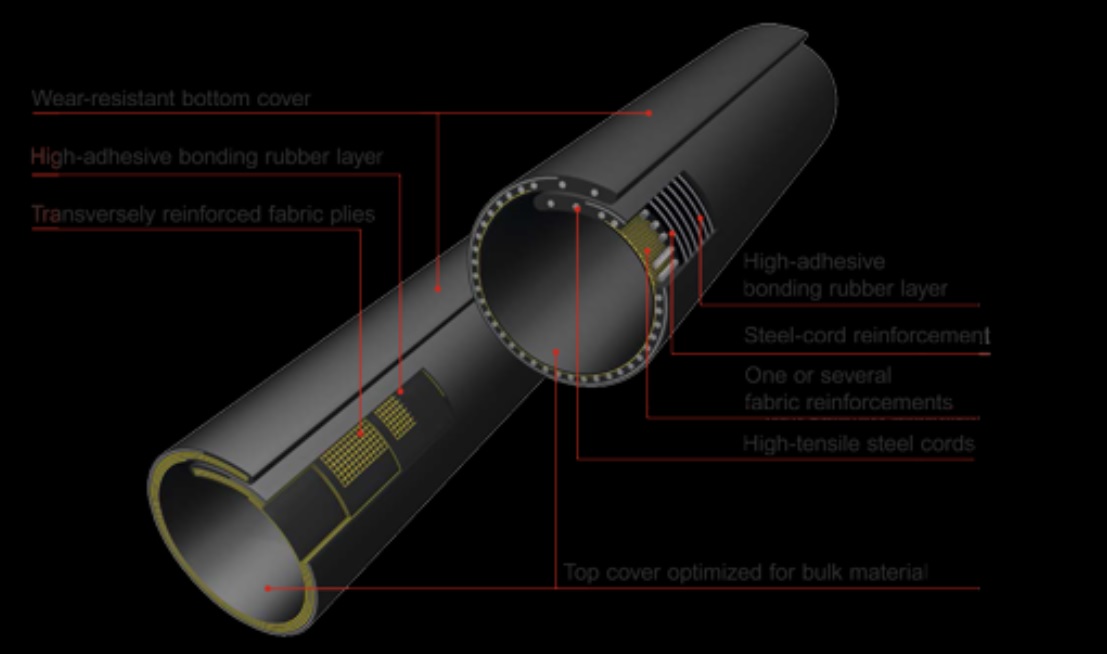 A Pipe Conveyor Belt differs from a conventional, troughed belt in its design and splicing technology and performs special conveying tasks.
Mining and industrial applications often require relatively large inclines and tight curves to be overcome in tight spaces and at high mass flow rates. The particular features of modern pipe belt conveyors include: no transfer points, no material spillage along the conveyor route and tight curves. Pipe belt conveyors save space thanks to their compact design; navigate natural terrain, including steep conveyor angles up to 30°.
The pipe belt works in accordance with a specific operating principle: at the material feed point the conveyor belt is troughed and is fed at this point like a conventional conveyor belt. After the material feed point the conveyor belt is formed into a closed belt pipe by specially configured finger rollers. Further idlers set along the conveyor route guarantee that the belt is kept closed. As a result, the material conveyed remains protected by the closed belt system. At the end of the belt run the closed belt is opened as a result of the configuration of the finger rollers and adopts a flat shape at the pulley. The material conveyed can then be discharged in the same way as with conventional belt systems.
Pipe Conveyor Belt – Benefits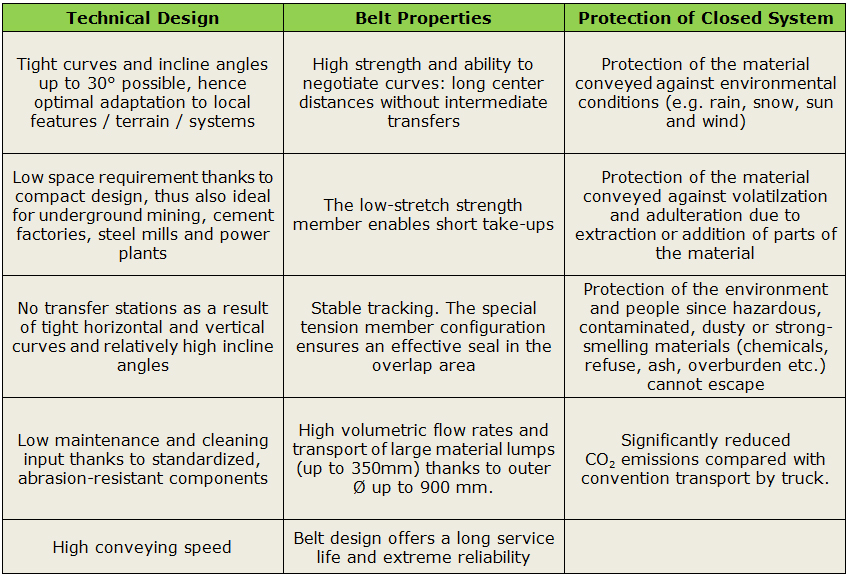 Chemical Resistant Conveyor Belting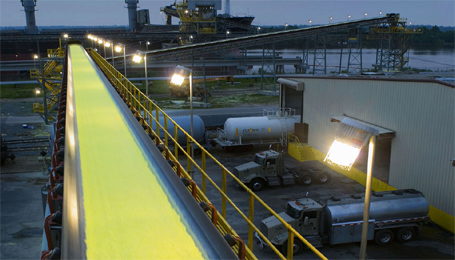 These belt stands up to aggressive acids and high concentration of various chemicals sulphur, potassium nitrate or hydrochloric acid. Acid & Alkali resistant belt is designed to convey corrosive or acid & alkali material in order to prevent the ingredient of rubber from being extracted and pollute the conveying material, also can reduce the corrosion of cover rubber so as to extend the belt life.
Chemical Resistant Conveyor Belts are designed as per international standards and the specific requirements of clients. We use high quality raw materials so that they are durable and provide long life.
Our exclusive range of Chemical Resistant Conveyor Belt is widely demanded for their accurate and efficient results and this is purely credited to the high quality of the raw materials used in the manufacturing process. Our Chemical Resistant Conveyor Belts are also known for their high grade quality and high industrial standards thus widely demanded by various industries.
Chemical Conveyor Belts are applicable in conveying of the corrosive material containing acids and alkali in industrial and mining enterprises such as chemical plant, fertilizer plant, paper mill, etc.
Mutual discussion with us at pre-ordering stage would always ensure the best designed covers for specific installations.
Cold Resistance Conveyor Belting

The carcass is made from Polyester Fabric, Nylon Fabric, Cotton Fabric, or Terylene & Cotton Fabric, etc. Adopting lower crystal rubber materials as cover rubber, it allows our Cold Resistant Belt to maintain excellent elasticity and impact resistance at temperature of – 40 degree C. The belt is manufactured by forming and vulcanizing.
Working temperature: -40 oC to +50 oC
Mutual discussion with us at pre-ordering stage would always ensure the best designed covers for specific installations.
Modal 9
Sed convallis varius lectus at volutpat. Mauris fringilla dictum risus. Pellentesque neque tortor, malesuada in posuere ac, commodo et nisl. Vivamus massa turpis, porttitor scelerisque bibendum vel, eleifend sed neque. In elementum, magna et porta viverra, metus nunc lacinia diam, eget vehicula risus augue in odio. Nullam sed neque erat. Integer eget tincidunt dolor, et fringilla justo. Sed eget nisi accumsan urna pulvinar fermentum a quis nunc. Fusce ornare urna quis purus dapibus bibendum. Integer lacus elit, malesuada quis dui vel, vulputate tempor est. Pellentesque a quam elementum, blandit leo varius, laoreet mi. Aliquam vestibulum nisl eu tortor malesuada auctor. Duis in enim ornare, convallis metus in, posuere justo. Sed ac odio egestas, ultricies dui non, malesuada nibh. Donec vel massa et purus rutrum luctus. Quisque fermentum ornare fermentum. Morbi sit amet dui volutpat, vehicula metus ut, volutpat enim. Cras a mauris posuere, sagittis justo nec, aliquam leo.